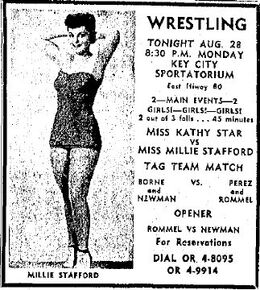 This card took place at the Key City Sportatorium in Abilene, Texas on Monday, August 28, 1961.
Eric Rommel vs. Leo Newman.
Millie Stafford defeated Kathy Starr.

Starr pinned Stafford to win the first fall (13:00).
Stafford pinned Starr to win the second fall (8:00).
Stafford won the third fall with a leg scissors (9:00).

Tony Borne & Leo Newman defeated Alex Perez & Eric Rommel.

Borne pinned Rommell to win the first fall (17:00).
Rommell pinned Newman to win the second fall.
Perez was counted out in the third fall.
Ad blocker interference detected!
Wikia is a free-to-use site that makes money from advertising. We have a modified experience for viewers using ad blockers

Wikia is not accessible if you've made further modifications. Remove the custom ad blocker rule(s) and the page will load as expected.