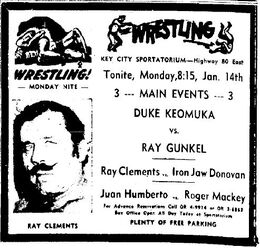 This card took place at the Key City Sportatorium in Abilene, Texas on Monday, January 14, 1957.
Roger Mackay pinned Juan Humberto (25:00).
Doug Donovan defeated Ray Clements.

Donovan pinned Clements after an atomic drop (25:00).
Clements was disqualified.

Duke Keomuka defeated Ray Gunkel.

Keomuka won the first fall with a sleeper hold (13:00).
Gunkel won the second fall (7:00).
Keomuka won the third fall.
Ad blocker interference detected!
Wikia is a free-to-use site that makes money from advertising. We have a modified experience for viewers using ad blockers

Wikia is not accessible if you've made further modifications. Remove the custom ad blocker rule(s) and the page will load as expected.