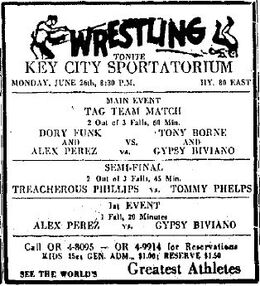 This card took place at the Key City Sportatorium in Abilene, Texas on Monday, June 26, 1961.
Alex Perez vs. Gypsy Biviano.
Treach Phillips vs. Tommy Phelps.
Dory Funk, Sr. & Alex Perez vs. Tony Borne & Gypsy Biviano.
The report for the next week's card describes Gypsy Biviano as making his début, so it is possible did not appear as announced on this date.
Ad blocker interference detected!
Wikia is a free-to-use site that makes money from advertising. We have a modified experience for viewers using ad blockers

Wikia is not accessible if you've made further modifications. Remove the custom ad blocker rule(s) and the page will load as expected.