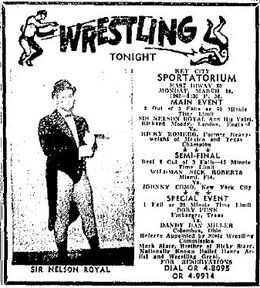 This card was held at the Key City Sportatorium in Abilene, Texas on Monday, March 19, 1962.
Dan Miller defeated Dory Funk, Sr. via count out (9:00).
Johnny Como defeated Tommy Phelps.

Como won via submission (14:00).
Como pinned Phelps (7:00).

Nelson Royal defeated Ricky Romero

Romero pinned Royal (9:30).
Royal pinned Romero (11:00).
Royal pinned Romero (2:00).
Nelson Royal was fined and suspended by the wrestling commissioner for receiving outside help from his valet Richard Moody.
Ad blocker interference detected!
Wikia is a free-to-use site that makes money from advertising. We have a modified experience for viewers using ad blockers

Wikia is not accessible if you've made further modifications. Remove the custom ad blocker rule(s) and the page will load as expected.