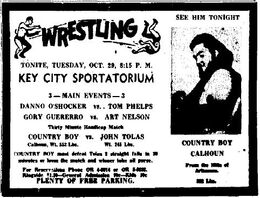 This card took place at the Key City Sportatorium in Abilene, Texas on Tuesday, October 29, 1957.
Tommy Phelps defeated Danny O'Shocker in three falls.
Art Nelson defeated Gory Guerrero via count out.
John Tolos defeated Country Boy Calhoun by winning the second fall in a match where Calhoun had to win two straight falls in 30 minutes.
Ad blocker interference detected!
Wikia is a free-to-use site that makes money from advertising. We have a modified experience for viewers using ad blockers

Wikia is not accessible if you've made further modifications. Remove the custom ad blocker rule(s) and the page will load as expected.