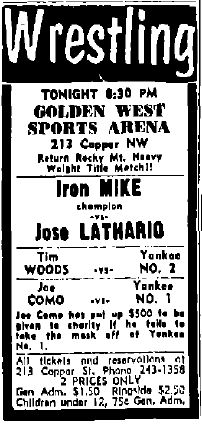 This card took place at the Golden West Sports Arena in Albuquerque, New Mexico on Friday, August 27, 1965.
Joe Como vs. Mighty Yankee #1.
Tim Woods vs. Mighty Yankee #2.
Ricky Romero defeated Jose Lothario to win the Rocky Mountain Heavyweight Title.
There are no results for this card, but in September it is mentioned that Romero defeated Lothario for the title "late last month", which would put the title change on this card. Although Mike DiBiase is listed as champion in the advert, all other reports have Lothario as champion going into this card.
Ad blocker interference detected!
Wikia is a free-to-use site that makes money from advertising. We have a modified experience for viewers using ad blockers

Wikia is not accessible if you've made further modifications. Remove the custom ad blocker rule(s) and the page will load as expected.