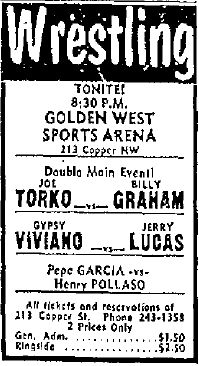 This card took place at the Golden West Sports Arena in Albuquerque, New Mexico on Monday, January 11, 1965.
Gypsy Biviano pinned Pepe Garcia with a body press (22:12).
Ken Lucas defeated Henry Piluso in three falls (44:00).
Billy Graham defeated Joe Turko via disqualification in three falls.
Ad blocker interference detected!
Wikia is a free-to-use site that makes money from advertising. We have a modified experience for viewers using ad blockers

Wikia is not accessible if you've made further modifications. Remove the custom ad blocker rule(s) and the page will load as expected.