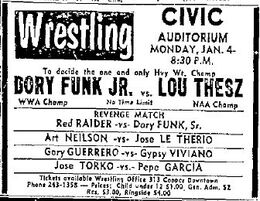 This card took place at the Civic Auditorium in Albuquerque, New Mexico on Monday, January 4, 1965.
Pepe Garcia fought Joe Turko to a draw.
Gory Guerrero defeated Gypsy Biviano.
The Mongol defeated Frank Saiz.
Dory Funk, Sr. defeated The Red Raider with the spinning toe hold (24:00).
NWA World Heavyweight Champion Lou Thesz defeated Dory Funk, Jr. to win the WWA World Heavyweight Title.

Thesz used a flying scissors to win the first fall (15:43).
Funk used the spinning toe hold to win the second fall (10:47).
Thesz pinned Funk with a body press to win the third fall (3:00).
The attendance was listed as nearly 1,700.
The referee for the main event was Ed Sharpe.
Ad blocker interference detected!
Wikia is a free-to-use site that makes money from advertising. We have a modified experience for viewers using ad blockers

Wikia is not accessible if you've made further modifications. Remove the custom ad blocker rule(s) and the page will load as expected.