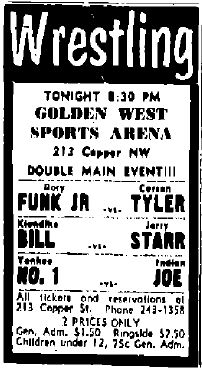 This card took place at the Golden West Sports Arena in Albuquerque, New Mexico on Friday, July 23, 1965.
Mighty Yankee #1 defeated Indian Joe with a body press (5:00).
Jerry Starr defeated Jack Cain in three falls.
Klondike Bill defeated Dory Funk, Jr. in three falls.
The attendance was listed as "nearly 350 fans".
The referee was Dick Wilkinson.
Ad blocker interference detected!
Wikia is a free-to-use site that makes money from advertising. We have a modified experience for viewers using ad blockers

Wikia is not accessible if you've made further modifications. Remove the custom ad blocker rule(s) and the page will load as expected.