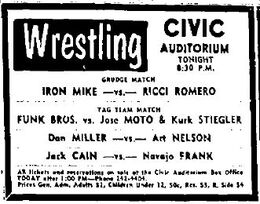 This card took place at the Civic Auditorium in Albuquerque, NM on Sunday, June 12, 1966.
Jack Cain vs. Navajo Frank.
Dan Miller vs. Art Nelson.
Dory Funk, Jr. & Terry Funk defeated Kurt Steiger & Jose Moto.
Ricky Romero defeated Mike DiBiase in three falls due to blood loss by DiBiase.
The attendance was listed as "nearly 1,400".
The referee was Dick Wilkinson.
Ad blocker interference detected!
Wikia is a free-to-use site that makes money from advertising. We have a modified experience for viewers using ad blockers

Wikia is not accessible if you've made further modifications. Remove the custom ad blocker rule(s) and the page will load as expected.