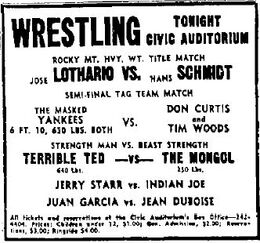 This card took place at the Civic Auditorium in Albuquerque, New Mexico on Monday, June 7, 1965.
Juan Garcia defeated Gene DuBois with an abdominal stretch.
The Masked Yankees defeated Don Curtis & Tim Woods (32:00).
Terrible Ted defeated The Mongol via countout.
Rocky Mountain Heavwyeight Champion Jose Lothario defeated Hans Schmidt in three falls.
The attendance was listed as "nearly 1,000".
Ad blocker interference detected!
Wikia is a free-to-use site that makes money from advertising. We have a modified experience for viewers using ad blockers

Wikia is not accessible if you've made further modifications. Remove the custom ad blocker rule(s) and the page will load as expected.