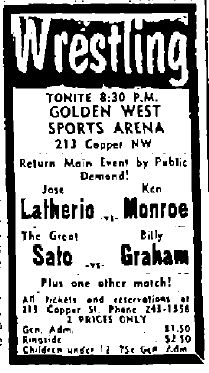 This card took place at the Golden West Sports Arena in Albuquerque, New Mexico on Monday, March 1, 1965.
Frank Saiz defeated Dick Wilkinson.
Mr. Sato defeated Billy Graham in three falls.
Jose Lothario defeated Ken Monroe in three falls.
Ken Lucas began to wrestle as Ken Monroe in Albuquerque, billed as the brother of Sputnik Monroe.
Ad blocker interference detected!
Wikia is a free-to-use site that makes money from advertising. We have a modified experience for viewers using ad blockers

Wikia is not accessible if you've made further modifications. Remove the custom ad blocker rule(s) and the page will load as expected.