This card took place at the Civic Auditorium in Albuquerque, New Mexico on Sunday, November 6, 1966.
Killer Karl Kox vs. Wildman Wehba & Navajo Frank.
Terry Funk & Ricky Romero vs. Dick Steinborn & The Viking.
Chicken Wire Fence Match: Jack Cain vs. Batman.
Rocky Mountain Heavyweight Champion Prof. Tanaka vs. Bearcat Wright.
Below is the newspaper preview where the journalist has mistaken a handicap match for a wrestler named "The Handy Cop".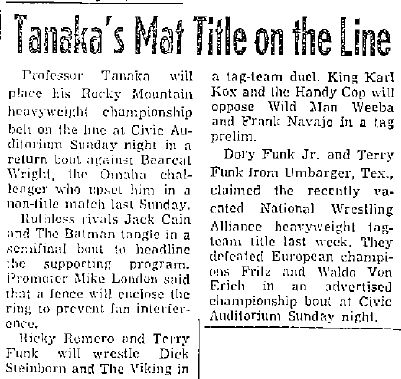 Ad blocker interference detected!
Wikia is a free-to-use site that makes money from advertising. We have a modified experience for viewers using ad blockers

Wikia is not accessible if you've made further modifications. Remove the custom ad blocker rule(s) and the page will load as expected.