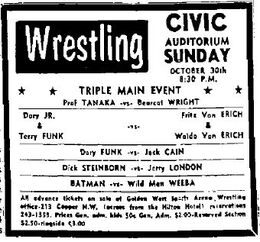 This card took place at the Civic Auditorium in Albuquerque, New Mexico on Sunday, October 30, 1966.
Batman vs. Wildman Wehba.
Dick Steinborn vs. Jerry London.
Dory Funk, Sr. vs. Jack Cain.
Dory Funk, Jr. & Terry Funk defeated Fritz Von Erich & Waldo Von Erich to win the vacant World Tag Team Title.
Bearcat Wright defeated Prof. Tanaka.
Fritz Von Erich & Waldo Von Erich were billed as "European champions".
Ad blocker interference detected!
Wikia is a free-to-use site that makes money from advertising. We have a modified experience for viewers using ad blockers

Wikia is not accessible if you've made further modifications. Remove the custom ad blocker rule(s) and the page will load as expected.