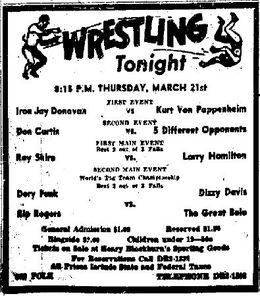 This card took place at the Sports Arena in Amarillo, Texas on Thursday, March 21, 1957.
Kurt Von Poppenheim defeated Doug Donovan in three falls.
Don Curtis defeated Ray Duran & Leo Newman & Frenchy Ouimett & Kurt Von Popoenheim (30:00).
Roy Shire (w/ Frenchy Ouimett) defeated Larry Hamilton in three falls.
Dizzy Davis & The Great Bolo defeated Dory Funk, Sr. & Rip Rogers to win the World Tag Team Title.

Funk was disqualificed in the first fall.
Funk & Rogers were counted out in the second fall.
The referee was Tommy Phelps.
Don Curtis was scheduled to take on five opponents, one at a time, with a 30:00 time limit. It was mentioned in the preview that the opponents would be announced at ringside. The newspaper only listed four opponents in the results, but it appears that the time limit may have expired before the fifth opponent was to appear.
Ad blocker interference detected!
Wikia is a free-to-use site that makes money from advertising. We have a modified experience for viewers using ad blockers

Wikia is not accessible if you've made further modifications. Remove the custom ad blocker rule(s) and the page will load as expected.