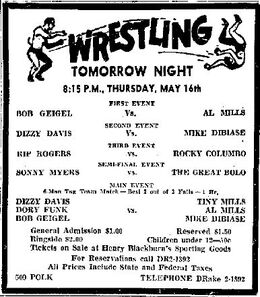 This card took place at the Sports Arena in Amarillo, Texas on Thursday, May 16, 1957.
Bob Geigel defeated Al Mills.
Rip Rogers fought Rocky Columbo to a draw.
Sonny Myers fought The Great Bolo to a draw in three falls.
Dory Funk, Sr. & Bob Geigel & Dizzy Davis defeated Tiny Mills & Al Mills & Mike DiBiase in three falls.
Ad blocker interference detected!
Wikia is a free-to-use site that makes money from advertising. We have a modified experience for viewers using ad blockers

Wikia is not accessible if you've made further modifications. Remove the custom ad blocker rule(s) and the page will load as expected.