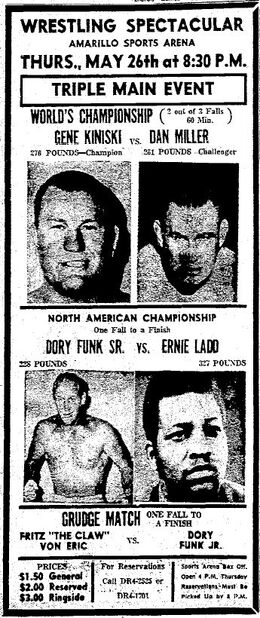 This card took place at the Sports Arena in Amarillo, Texas on Thursday, May 26, 1966.
Terry Funk defeated Jack Donovan with the spinning toe hold (5:17).
Mike DiBiase (w/ Jack Cain) pinned Ricky Romero (11:27).
Fritz Von Erich pinned Dory Funk, Jr. (12:17).
Ernie Ladd defeated North American Heavyweight Champion Dory Funk, Sr. via disqualification.
World Heavyweight Champion Gene Kiniski defeated Dan Miller.

Miller won the first fall with an airplane spin (8:06).
Kiniski used a knee drop and press to win the second fall (9:32).
Kiniski pinned Miller with a press to win the third fall (8:06).
The referee was Lyn Miller.
Ad blocker interference detected!
Wikia is a free-to-use site that makes money from advertising. We have a modified experience for viewers using ad blockers

Wikia is not accessible if you've made further modifications. Remove the custom ad blocker rule(s) and the page will load as expected.