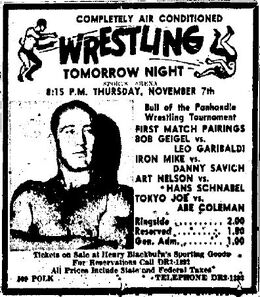 This card took place at the Sports Arena in Amarillo, Texas on Thursday, November 7, 1957.
Mike DiBiase defeated Danny Savich.
Bob Geigel defeated Leo Garibaldi.
Tokyo Joe defeated Abe Coleman
Hans Schanbel defeated Art Nelson.
Al Lovelock defeated Tarzan Lopez.
Mike DiBiase defeated Bob Geigel.
Tokyo Joe defeated Hans Schnabel.
Gory Guerrero defeated Roger Mackay.
Mike DiBiase defeated Leo Garibaldi to win the Bull of the Panhandle tournament.
The referees were Big Train Clements and Tommy Phelps.
Tokyo Joe was injured in his semi-final victory and Leo Garibaldi was chosen by the fans as his replacement.
Ad blocker interference detected!
Wikia is a free-to-use site that makes money from advertising. We have a modified experience for viewers using ad blockers

Wikia is not accessible if you've made further modifications. Remove the custom ad blocker rule(s) and the page will load as expected.