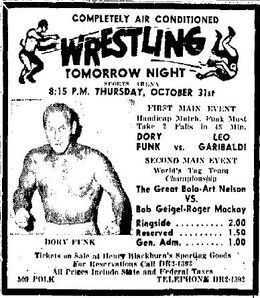 This card took place at the Sports Arena in Amarillo, Texas on Thursday, October 31, 1957.
Gory Guerrero defeated Tommy Phelps.
Tokyo Joe fought Danny Savich to a draw.
Mike DiBiase defeated Hans Schanbel via disqualification.
Art Nelson & Al Lovelock defeated Bob Geigel & Roger Mackay.
Leo Garibaldi defeated Dory Funk, Sr. in a match where Funk had to win to unanswered falls.

Funk won the first fall with the spinning toe hold.
Garibaldi pinned Funk to win the second fall.
Al Lovelock had previously competed masked as The Great Bolo.
Ad blocker interference detected!
Wikia is a free-to-use site that makes money from advertising. We have a modified experience for viewers using ad blockers

Wikia is not accessible if you've made further modifications. Remove the custom ad blocker rule(s) and the page will load as expected.