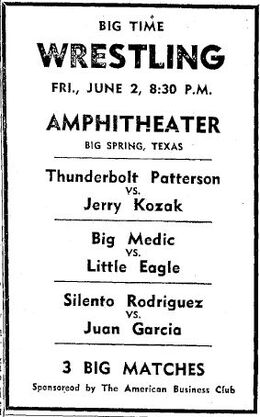 This card took place at the City Park Amphitheater in Big Spring, Texas on Friday, June 2, 1967.
Silento Rodriguez vs. Juan Garcia.
Chief Little Eagle defeated The Big Medic in three falls.
Jerry Kozak defeated Thunderbolt Patterson via reverse decision in three falls (40:00).
The crowd was listed at "about 500".
The referee was Bobby Duncum.
Ad blocker interference detected!
Wikia is a free-to-use site that makes money from advertising. We have a modified experience for viewers using ad blockers

Wikia is not accessible if you've made further modifications. Remove the custom ad blocker rule(s) and the page will load as expected.