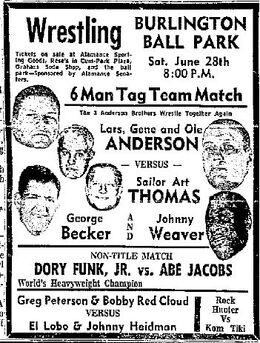 This card took place at Fairchild Park in Burlington, North Carolina on Saturday, June 28, 1969.
Koa Tiki defeated Johnny Heidman in three falls.
El Lobo & Rock Hunter defeated Greg Peterson & Chief Red Cloud.
Dory Funk, Jr. defeated Abe Jacobs in three falls.
Lars Anderson & Gene Anderson & Ole Anderson defeated Art Thomas & George Becker & Johnny Weaver via disqualification.
Ad blocker interference detected!
Wikia is a free-to-use site that makes money from advertising. We have a modified experience for viewers using ad blockers

Wikia is not accessible if you've made further modifications. Remove the custom ad blocker rule(s) and the page will load as expected.