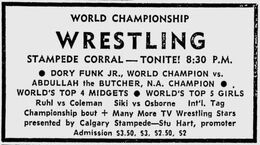 This card took place at the Stampede Corral in Calgary, Alberta, Canada on Friday, July 10, 1970.
Sweet Daddy Siki vs. Bud Osborne.
Wayne Coleman vs. Dave Ruhl.
4-woman Battle Royal (participants: Jane O'Brien, Lovely Louise, Irma Acevido, Patty Stevens).
World Women's Champion Midred Burke vs. winner of Battle Royal.
International Tag Team Champions Gil Hayes & Bob Sweetan vs. Jerry Christy & Bobby Christy.
World Heavyweight Champion Dory Funk, Jr. defeated Abdullah the Butcher via disqualification in three falls.
The attendance was "an estimated 5,000".
The referee was Gordon Grayston.
Ad blocker interference detected!
Wikia is a free-to-use site that makes money from advertising. We have a modified experience for viewers using ad blockers

Wikia is not accessible if you've made further modifications. Remove the custom ad blocker rule(s) and the page will load as expected.