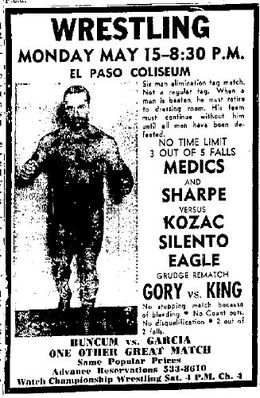 This card took place at the Coliseum in El Paso, Texas on Monday, May 15, 1967.
Kay Noble defeated Pat Howard.
Elimination Match: The Medics & Bobby Duncum defeated Silento Rodriguez & Chief Little Eagle & Jerry Kozak when one of the Medics was the sole survivor.
World Light Heavyweight Champion Gory Guerrero defeated Jack King via count out (10:00).
The main event ended when King was knocked out of the ring. He was taken to hospital and was treated for concussion.
Ad blocker interference detected!
Wikia is a free-to-use site that makes money from advertising. We have a modified experience for viewers using ad blockers

Wikia is not accessible if you've made further modifications. Remove the custom ad blocker rule(s) and the page will load as expected.