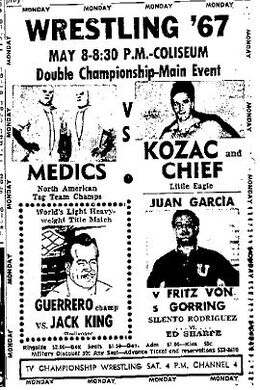 This card took place at the Coliseum in El Paso, Texas on Monday, May 8, 1967.
Silento Rodriguez defeated Ed Sharpe via disqualification.
Juan Garcia pinned Nick Roberts.
North American Tag Team Champions The Medics defeated Chief Little Eagle & Jerry Kozak.
World Light Heavyweight Champion Gory Guerrero fought Jack King to a double-disqualification.
This was the first card promoted by Saul Paredes and the International City Wrestling Club.
The attendance was listed as "some 1,800".
Ad blocker interference detected!
Wikia is a free-to-use site that makes money from advertising. We have a modified experience for viewers using ad blockers

Wikia is not accessible if you've made further modifications. Remove the custom ad blocker rule(s) and the page will load as expected.