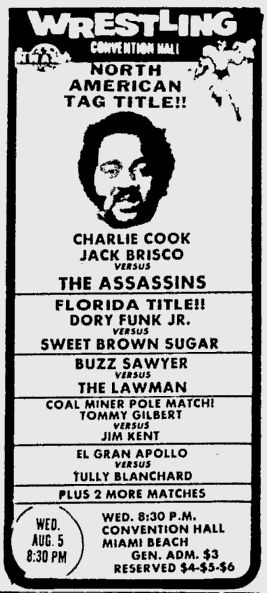 This card took place at the Convention Hall in Miami Beach, Florida on Wednesday, August 5, 1981.
El Gran Apollo vs. Tully Blanchard.
Coal Miner's Glove Match: Tommy Gilbert vs. Jim Kent.
Buzz Sawyer vs. The Lawman.
Dory Funk, Jr. vs. Sweet Brown Sugar.
Charlie Cook & Jack Brisco vs. The Assassins.
Ad blocker interference detected!
Wikia is a free-to-use site that makes money from advertising. We have a modified experience for viewers using ad blockers

Wikia is not accessible if you've made further modifications. Remove the custom ad blocker rule(s) and the page will load as expected.