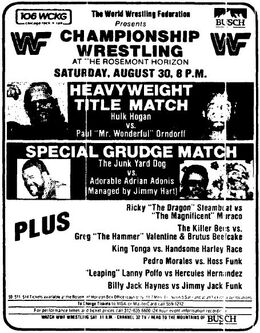 This card took place at the Horizon in Rosemont, Illinois on Saturday, August 30, 1986.
Billy Jack Haynes vs. Jimmy Jack Funk.
Lanny Poffo vs. Hercules Hernandez.
Pedro Morales vs. Hoss Funk.
King Tonga vs. Harley Race.
B. Brian Blair & Jim Brunzell vs. Greg Valentine & Brutus Beefcake.
Ricky Steamboat vs. Don Muraco.
Junkyard Dog vs. Adrian Adonis (w/ Jimmy Hart).
WWF World Heavyweight Champion Hulk Hogan vs. Paul Orndorff.
Ad blocker interference detected!
Wikia is a free-to-use site that makes money from advertising. We have a modified experience for viewers using ad blockers

Wikia is not accessible if you've made further modifications. Remove the custom ad blocker rule(s) and the page will load as expected.