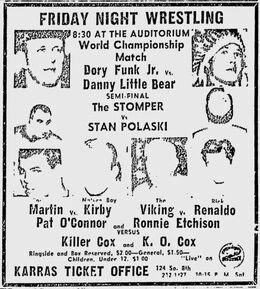 This card took place at the Auditorium in St. Joseph, Missouri on Friday, February 27, 1970.
The Viking defeated Rick Renaldo (6:21).
K.O. Cox & Killer Cox defeated Pat O'Connor & Ronnie Etchison.
Tommy Martin defeated Roger Kirby via disqualification (12:27).
The Stomper defeated Stan Polaski (12:47).
World Heavyweight Champion Dory Funk, Jr. fought Danny Little Bear to a draw.

Funk pinned Little Bear (15:58).
Little Bear won via submission (6:28).
Little Bear was counted out but Funk would not accept the victory.
The attendance was listed as 2,224.
Ad blocker interference detected!
Wikia is a free-to-use site that makes money from advertising. We have a modified experience for viewers using ad blockers

Wikia is not accessible if you've made further modifications. Remove the custom ad blocker rule(s) and the page will load as expected.