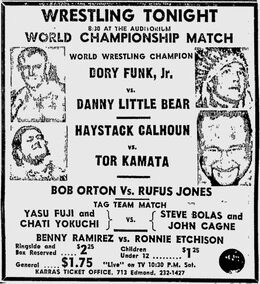 This card took place at the Auditorium in St. Joseph, Missouri on Friday, September 24, 1971.
Benny Ramirez vs. Ronnie Etchison.
Yasu Fuji & Chati Yokuchi vs. Steve Bolas & John Gagne.
Bob Orton vs. Rufus R. Jones.
Haystack Calhoun vs. Tor Kamata.
World Heavyweight Champion Dory Funk, Jr. vs. Danny Little Bear.
Ad blocker interference detected!
Wikia is a free-to-use site that makes money from advertising. We have a modified experience for viewers using ad blockers

Wikia is not accessible if you've made further modifications. Remove the custom ad blocker rule(s) and the page will load as expected.